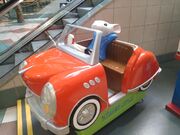 "Oh, hello! You must be a friend of Snowbell. I'm Stuart!" Get ready to go for a ride on his classic. Spin around in a giant roadster during a madcap talking sound. Ride like a boyfriend or a girlfriend?
Version 1
Release date on August 4, 2000.
Version 2
Release date on September 25, 2001.
Version 3
Release date: July 27, 2007.
Ride atop a regal steed and drive through a whirling backdrop of wondrous color and whimsical music themes.
Take a fantasy spin on a gallant car outside Littles' House at Kiddie Ride.