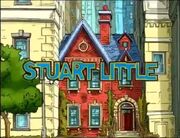 Stuart Little: The Animated Series, also known simply as Stuart Little, is an animated science-fiction adventure comedy-drama television series, based on the novel and films. The series is directed by Melody Fox, produced by Red Wagon Productions and Sony Pictures Television for the HBO digital cable television, and written by Rick Wilkie.
Stuart Little: The Animated Series teaches children how to solve their own problems and feel happy for their accomplishments.
Hugh Laurie reprises his role as Frederick Little, with the rest getting replaced by David Kaufman (Stuart) Kevin Schon and Quinton Flynn in some episodes (Snowbell) André Sogliuzzo (as Monty) Jennifer Hale (Eleanor and Martha Little) Kathy Najimy (Margalo) and Mark Hamill (Falcon).
The series aired for only 1 season, containing 19 episodes. Afterwards, it was cancelled.
Synopsis
HBO max
Characters
Characters Introduced
Episodes
Main article: Category:Episodes
Season 1
Episodes
Originally aired (U.S. dates)
Season premiere
Season finale
1
19
March 1, 2003
2020
Season 1
Voice cast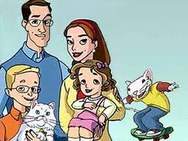 Cast notes
It was rumored that Carlos Alazraqui was Monty's new voice.
Production
HBO max!
Reception
2020
Home media
On March 22, 2007, two DVDs of Stuart Little: The Animated Series were released. Each contained 3 episodes.[citation needed]
In April 2009, two more DVDs were released.[citation needed]
Trivia
When it airs on both HBO Family and Qubo, it plays in a low-pitch.
References
Community content is available under
CC-BY-SA
unless otherwise noted.